On this page, you will find out what the toolbar is at the bottom of the screen, as well as how to search for items in the app.
Toolbar:
1. At the bottom of the screen, there is a toolbar you will use to move around in the app.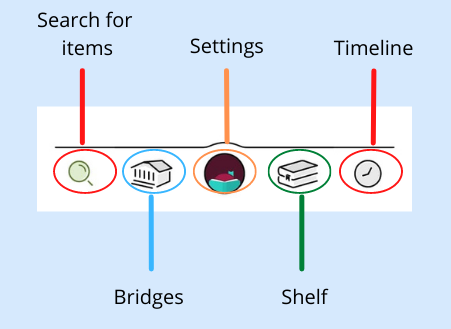 Search for Items:
search for items within the app
Bridges:
what we use to access all these materials
Settings:
help and support section of the app
Shelf:
see what you have out and on hold
Timeline:
see what you've checked out and when
Searching:
1. Click the magnifying glass at the bottom of the screen to search for items. 2. You can either type in what you're looking for (title, author, subject, material type), or you can 'Explore with Filters'. ​​​​​​These filters range from books, audiobooks, available now, magazines, etc. If you click on one, it will refine your search and only bring up items of that filter (i.e. only the items on the app that are available now).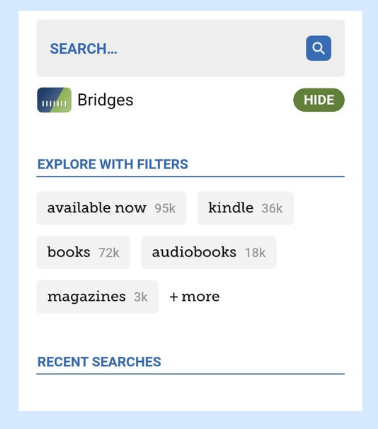 3. When you find an item you want to check out, pay attention to the status of the item. It will either say 'Place Hold' or 'Borrow'.

4. To find out how to Hold or Borrow an item, click this following link: Holding and Borrowing