On this page, you will find out how to sign in to the Libby app.
Signing In:
1. Once you open the app, it will ask you if you have a library card. Click yes if you do have one. Otherwise, contact us or go to this page to find out how to get one.
2. Now it will ask you to find your library in one of two ways: search for your library yourself, or let the app guess what library you use. The easiest way is to search for the library yourself. To do this, click 'I'll Search For a Library', type in our name (Cresco Public Library), and click on it once it shows up.

3. Next, you will need to type in your card/patron number. If you don't know this, then you need to contact us (phone call is the fastest).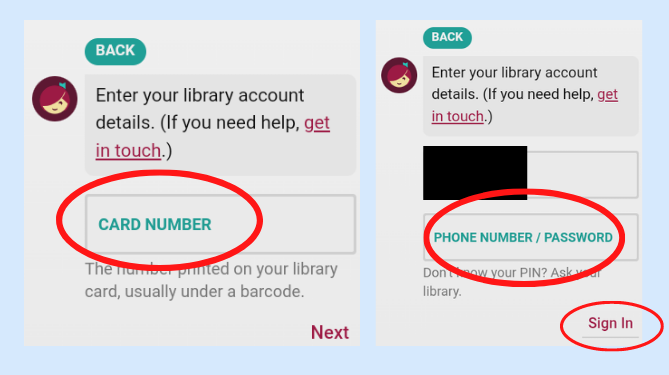 4. Then it will ask you for your phone number. You need to type in the phone number we have on file for you (not sure - call to verify). Be sure to type in the whole number, including area code, with no dashes.
5. Click the 'Sign In' button. If this doesn't go through, and you're not sure why, give us a call! Your account might be expired and just needs to be updated, or you don't have the correct numbers.
6. To learn how to search and find things within the app, click the following link: Searching