It is the mission of the Cresco Public Library to provide

free, unlimited access

to its resources, both materials and services to meet the personal, educational, and professional needs of those in the community. Special emphasis is placed on providing popular materials in a timely manner, on providing reference services to all students (at all academic levels) and other information seekers, and on making facilities available for local individuals, organizations, and agencies to do community work. The library serves as a learning and activities center for all residents.
We are happy to serve the Cresco area and the surrounding communities.
Director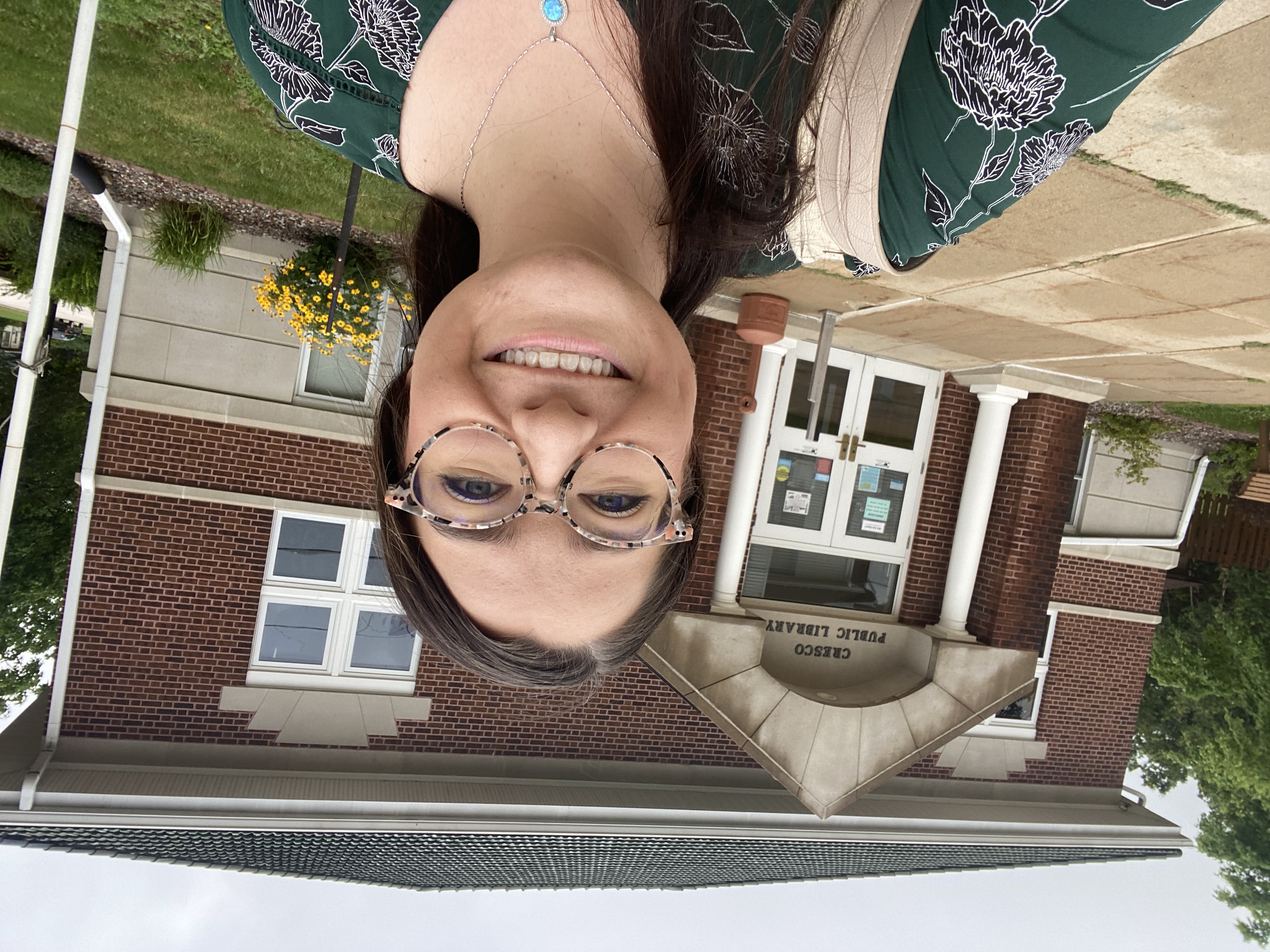 JORDYN MOORE, MSLIS
Jordyn became the Cresco Public Library Director in June of 2021. Before arriving at Cresco, Moore
worked for Fareway Stores Inc., for 8 years and worked in GEICO's Customer Service Management
Development Program for one year.
An Iowa native, she grew up in Manchester just a couple of blocks from her hometown library. A
fervent young reader, Moore knew that she wanted to work with books in some capacity in her career,
so she attended Wartburg College in Waverly, Iowa, and graduated in May of 2019 with a Bachelor of
Arts in English Literature and a minor in history. Unsure of next steps, Moore worked for GEICO and
then nannied for a family when the pandemic began in March of 2020. The pandemic helped orient
Moore back to her book-ish interests, and with support from family, friends, and her partner, she began
a master's program in Library Science. Moore received her American Library Association accredited Master of Science in Library and Information Science Degree from Syracuse University in May of 2022.
Moore said, "I am so excited and lucky to be able to work with the Cresco and Howard County communities and to learn how to best serve our patrons. I am also excited to listen to and implement new and different ideas to shift public perception of what a modern library is and what it can offer. Libraries are essential and are always changing, and I am honored to be a part of that."
Moore is a Librarian with research expertise and is able to assist in any research projects or requests. Other focus areas include data analyzation and integration, cataloging, information literacy, accessibility, and digital media among others.
Contact Jordyn @ 563-547-2540 or email jordyn@cresco.lib.ia.us